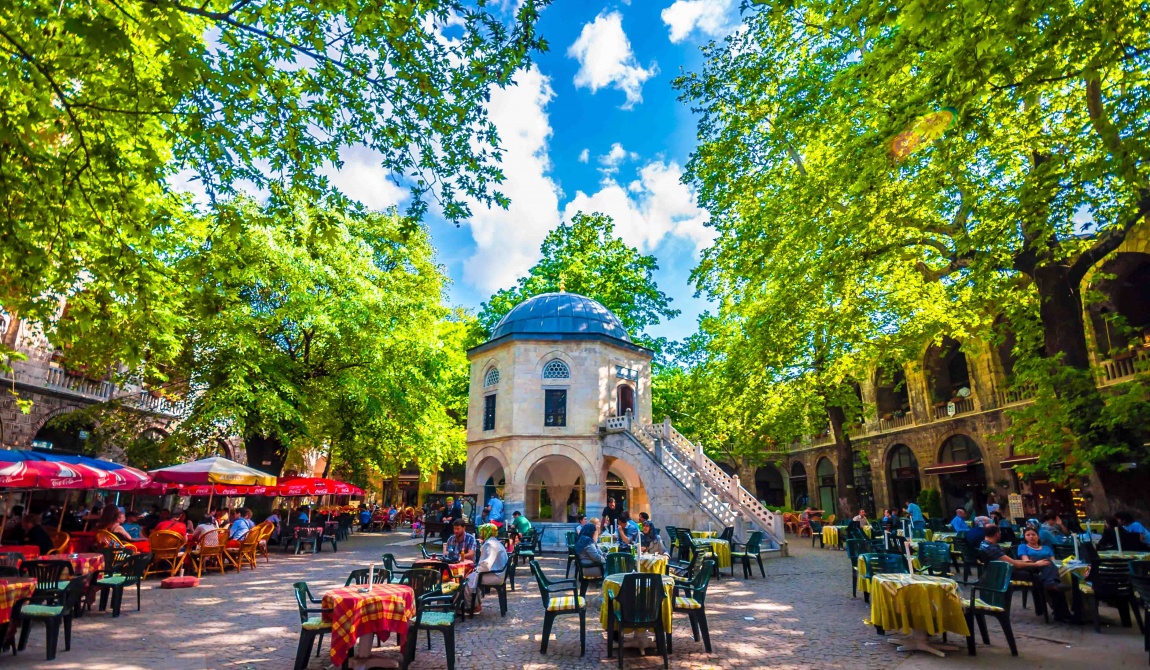 Bursa: The Grand City of Turkey
By SU Magazin / 2022-10-19

Once the capital of Seljuk and the Ottoman Empires, Bursa fascinates with its history, culture, gastronomy, and green landscape. Where the spirit of civilizations and cultures still lives, Bursa is another example of nature and culture creating a perfect mosaic in Turkey. Located in the Marmara Region of Turkey, Bursa is a few hours of drive from Istanbul, depending on where you are in Istanbul.

Every corner of this rich city's beauty takes pages to describe. However, no matter how much it is depicted, it is something else to experience with your eyes. These are the places that impress the Green City visitors the most.

Historic beauty and cultural richness burst out from every corner of this grand city. Pages won't be enough to describe them all but if you decide to come to Bursa these are some of the must-visit places.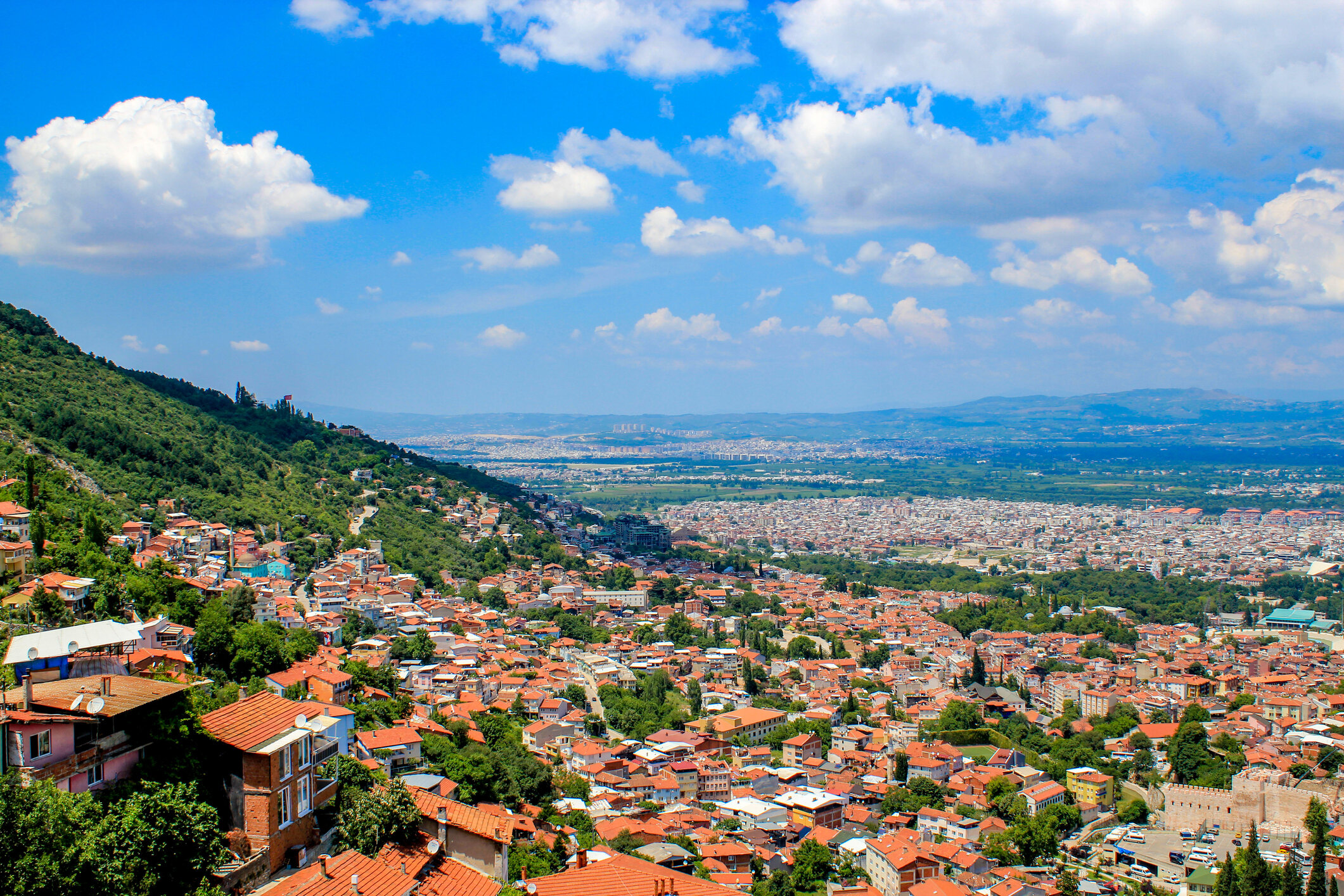 Central Bazaar and Koza Han
Bursa was a key stop on the Silk Route and the city is replete with well-restored buildings from its grandest era. The Central Bazaar is a vast labyrinth of covered market streets, caravanserais, and warehouses. These buildings are now home to shops and their courtyards are used as outdoor cafes that create a serene atmosphere. One of the most famous buildings in this neighborhood is the Koza Han. Koza Han was an important caravanserai and now hosts stores specializing in silk products. And its large shaded courtyard is the home of various cafes.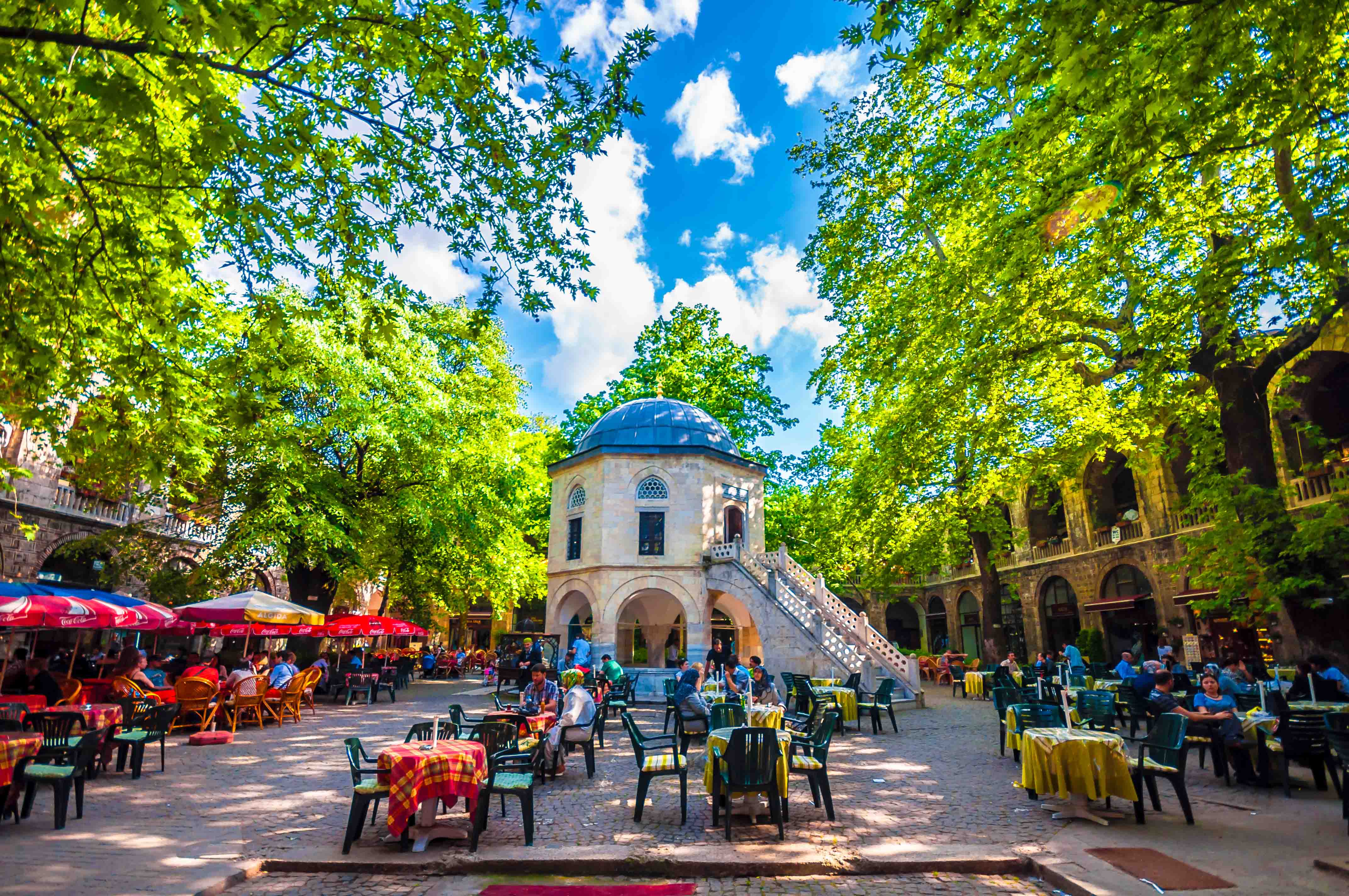 Ulu Camii (Grand Mosque)
Bursa's Ulu Cami (Grand Mosque) sits amid the city's central market area. This massive structure dates back to 1399, the early days of the Ottoman Empire, so its architectural style leans towards the earlier Seljuk style. Sultan Bayezid promised that he would build 20 mosques if he would win the battle of Nicopolis. Eventually, he won the war but instead, he built this grand mosque (Ulu Camii) with 20 domes.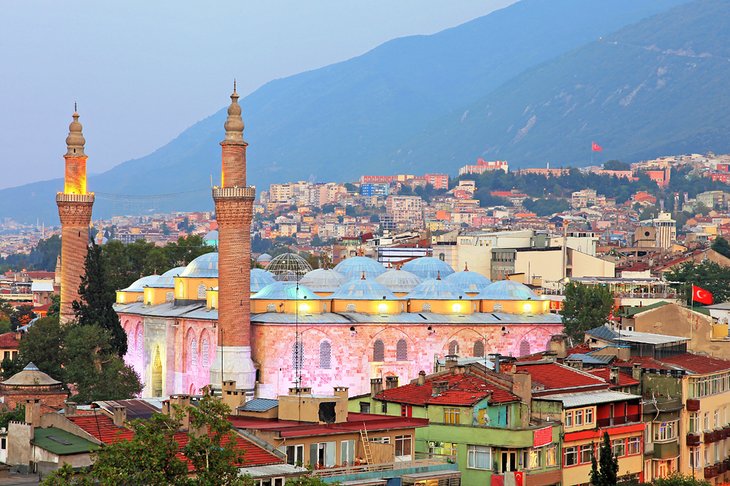 Green Mosque & Green Tomb
The Green Mosque (Yesil Cami) was built by Sultan Mehmed I, and the neighboring Green Tomb (Yesil Turbe) is the Sultan's sarcophagus. Sultan Mehmed I, who was the fifth Ottoman sultan, was an important figure in early Ottoman history. The Green Mosque which is a UNESCO World Heritage site is an important structure in Ottoman architecture with its marble and wood craftsmanship, especially with its tiles.
Cumalikizik Village
One of the most famous Bursa places to visit is the UNESCO World Heritage town of Cumalikizik. Cumalikizik Village dates back to the earliest period of the Ottoman era. This 700-year-old village is perched in the hills on the foot of the Uludag Mountain, 20 minutes from Bursa city center. The alleyways are paved with cobblestones and filled with old houses, some finely preserved, and others in various states of depilated situation. Houses are built in typical Ottoman style, with stonework and adobe walls with wood beam detailing. Wander the alleys and soak up the old-world rural atmosphere while marveling that a place like this still survives.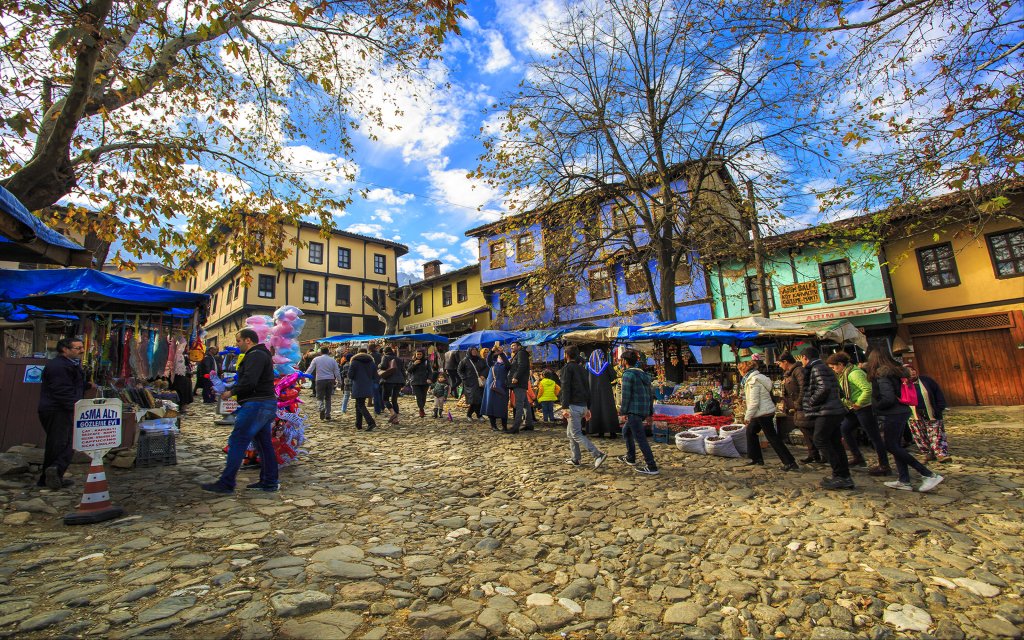 Irgandi Bridge
Did you know that there are only a handful of bridges in the world that have shops on them? One of them is the Irgandi Bridge. It was built originally in 1442 and rebuilt in 1949 due to the Greek invasion and earthquakes. It is a cute little shopping street with local artists showcasing their handicrafts. It is a picturesque scenery that should not be missed when in Bursa.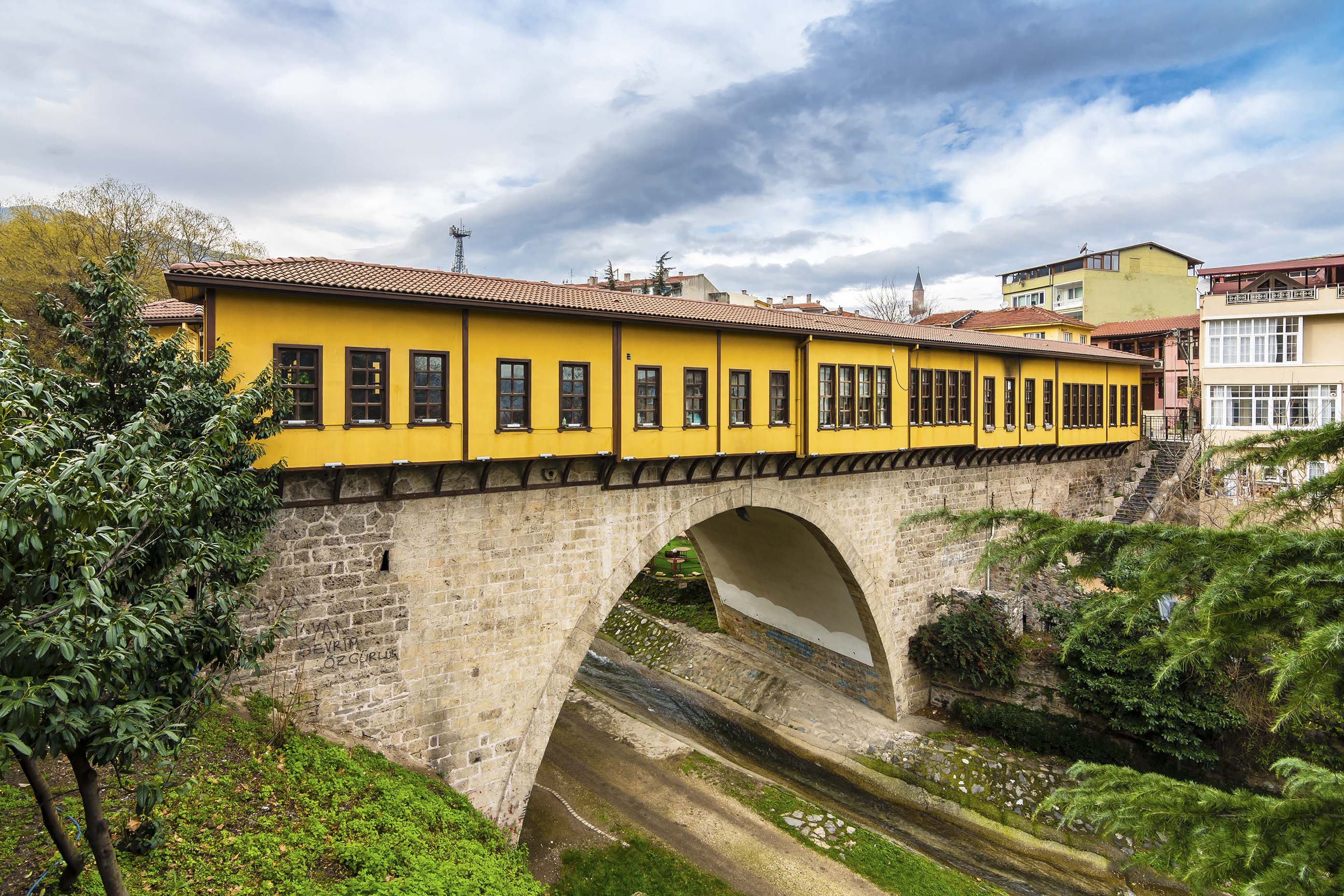 Golyazi Village
Golyazi is a tiny unique village that sits on a peninsula jutting into the Uluabat Lake and is an excellent place to visit if want to discover one of the hidden gems of Turkey. Golyazi is basically an island in Uluabat Lake. This slow-paced rural town is perfect for a little getaway from fast city life. Sunsets are magical in Golyazi Village and in spring migratory birds come by to enjoy this beautiful landscape.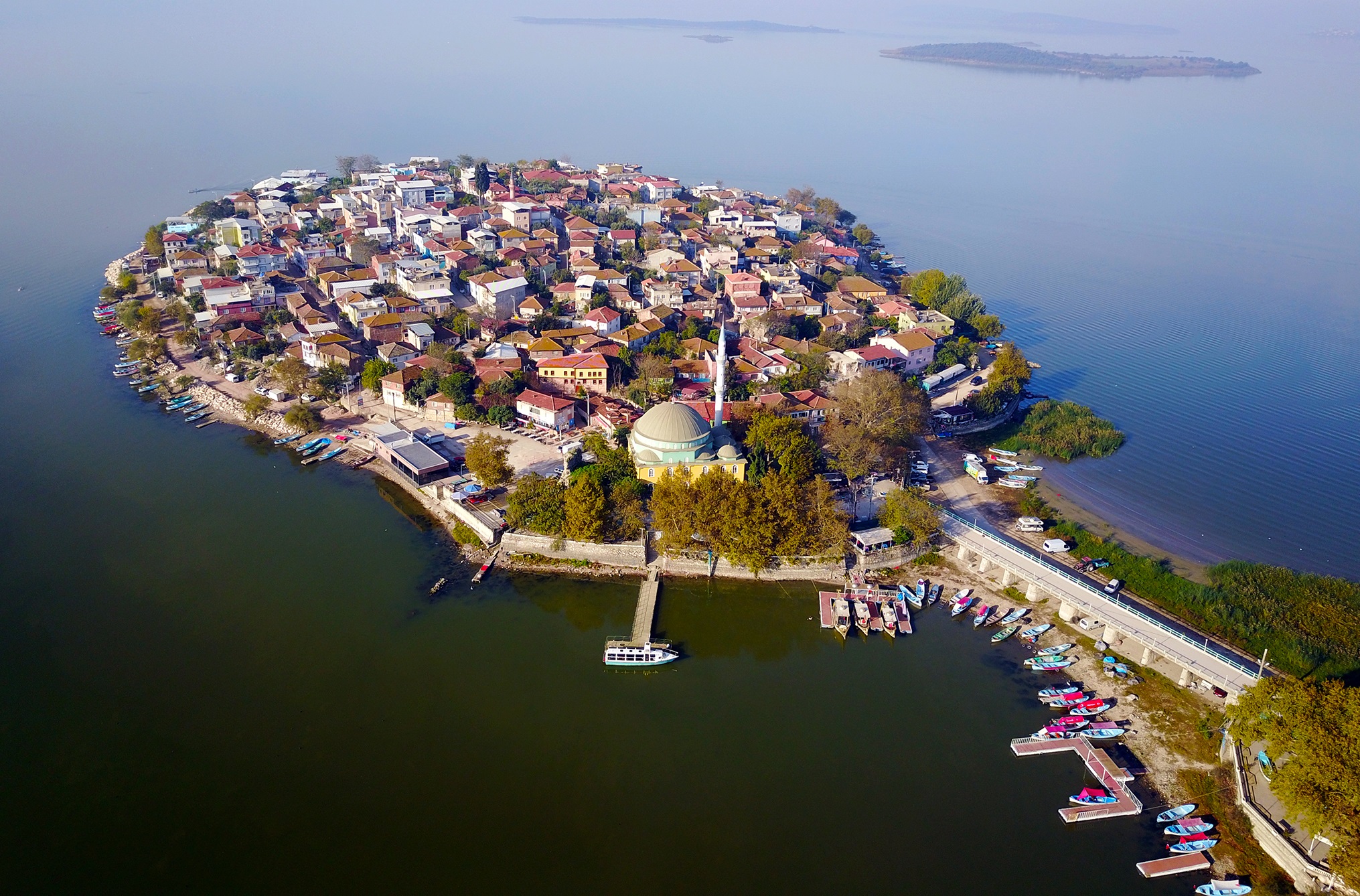 Teleferik (Cable Car)
One of the world's longest cable cars, the Bursa Teleferik goes up the slopes of Uludag (Grand Mountain). The total length of the two connecting gondolas is almost 10 kilometers. It is one of the favorite tourist attractions because of the magical view of the city from the air. In winter, the cable car is used by skiers and snowboarders to transport them to Uludag's peak.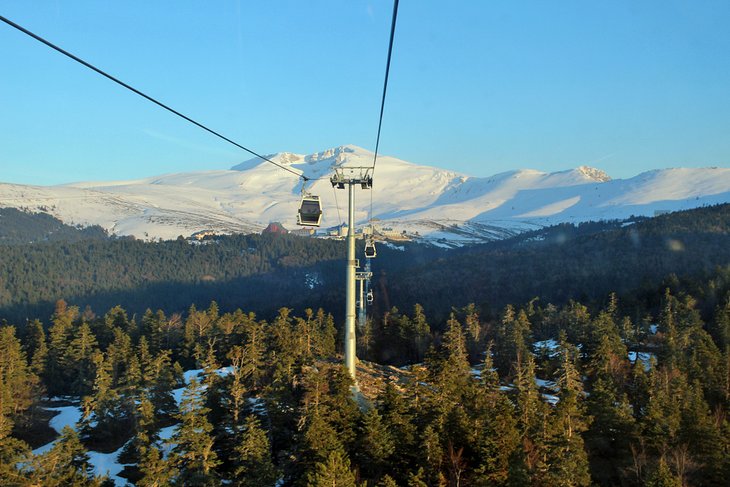 Uludag Mountain
Uludag is Turkey's busiest winter ski resort, which is full of things to do in the winter. The resort area ranges from between 1,767 meters and 2,322 meters above sea level. Ranging from beginner to advanced everyone can ski at Uludag. The ski season normally lasts from December through the end of March. in addition to skiing, you can enjoy activities such as snowboarding, mountain climbing, snow motorcycle, and trekking in Uludag.